Lough Doire Bhile
The Lake Committee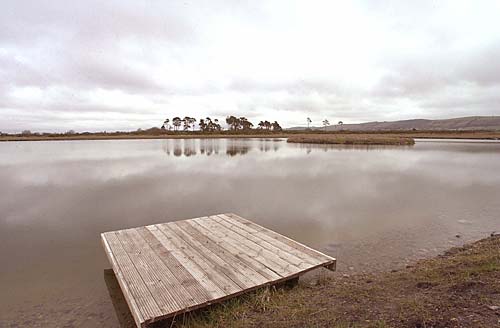 Lough Doire Bhile is situated two miles north of Glengoole, just off the Littleton-Glengoole bog road beside the Bord na Móna Lanespark bog. The lake is approximately six acres on a 70 acre wildlife sanctuary, which also contains two wetland areas.

Following many years of milled peat production by Bord na Móna peat reserves had become exhausted and the area had lain idle for some time. Normal practice would have been to hand over such areas to Coillte for forestation. However, in this case, the natural beauty of the place, nestling under the Slieveardagh Hills, became apparent and marked it out as a place suitable for development as an area for conservation.

The Land Development section of Bord na Móna was contacted and advice was sought on how best to utilise the area. In conjunction with Slieveardagh Rural Development and local Bord na Móna management a plan for the area was put together. It was planned to develop a lake and advice on how best to stock it was sought from local officers of the Fisheries Board. Total funding for the project was provided by Bord na Móna and E.U. Structural Funds.

A lake and two wetland areas were constructed during the Summer of 1999 and were flooded by the adjoining river. The wetlands became a home to many species of birds during the winter months such as whooper swans, teal, mallard, pintail duck, golden plover, lapwing, fieldfare and wild geese. 2300 trees were planted in the spring. A 500 – metre fence was erected by the road and a large car park was prepared. Fishing stands and picnic tables were installed to ensure the entire area would be utilised as a local amenity. The lake was stocked with brown trout and a competition arranged for 1st May 2000 which attracted 130 anglers and a large number of onlookers.

In the future it is intended to stock the lake with coarse fish and have a walkway through the wetlands.