ENTERTAINMENT
by Michael Nolan


Entertainment in the Parish
Music takes place every Saturday night in Kavanaghs of Glengoole which has an adjoining Beer garden. There is also traditional music at Brennans of Glengoole, the proprietors being Buddy and Peg Brennan. Buddy has written many local ballads, his most famous being "The Old Pub by the Hill", the words of which can be got in the school Jubilee 1950-2000 of "Glengoole- New Birmingham Copies of the above book can be obtained be contacting the Principle Carmel Delaney at Glengoole National School Phone No. 052-56644.

Ballynonty's Jury Room, recently renovated, also provides entertainment on Saturday Nights. The name 'Jury Room' originated from an old Court House of the same name and many locals still talk of harsh judgments being passed down to unfortunate people for mostly small misdemeanours and many being banished to Van Diemens Land.

Ballysloe (2 miles from Ballynonty and approx 1 mile from Glengoole) has two thriving hostelries, the Coole Tavern and Hogan's. The former is owned by Gabriel Lawless and locals and visitors alike can be assured of a warm welcome form Gabriel and his friendly staff. Fundraising occasions like table quizzes etc. are very popular here.

Hogans, just down the road, is a 'Mecca' for set dancing in the area. Michael and Alice Hogan are very friendly hosts and Monday night dancing has been a huge success here for many years. Sunday night dancing also takes place here during the summer months.

Three miles further on lies Gortnahoe village. Prouts of Gortnahoe has traditional music nights as well as modern music performed by local musicians. It also has a song attributed to it by the famous band Dan O'Meara of "Ballingarry" fame.

The famous landmark, 'Mary Willies' on the Dublin-Cork road, owned be Evelyn and Teresa has music every Sunday night and is a popular meeting place for hurling enthusiasts, especially after neighbouring counties Tipperary and Kilkenny clash in Semple Stadium.

The Wall House, owned by the Waugh family, is situated near the Wall of Kilcooley Estate and is also a musical haunt on Saturday nights.

Grange village nestles under the 'Cragg' and is very picturesque with its two pubs, Hogans and Corcorans, where patrons can relax and enjoy a drink in an 'old world' setting. The well-known author Joe Hogan from nearly Clonamiclon has done invaluable work documenting the local area. Grange was also the home of the late Brud Pearson who composed amongst other poems, "The Village of Grange".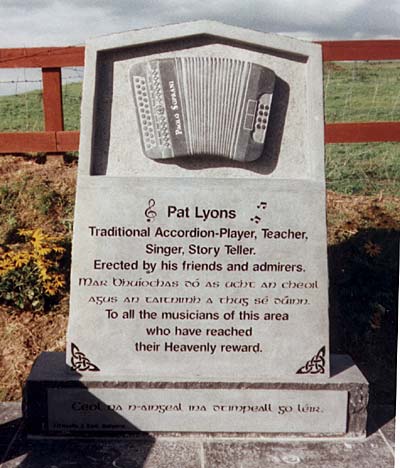 A "must" for visitors to the area has to be 'The Reen Viewing Area', where a beautiful monument to the late "Pat Lyons", the famous accordion player was unveiled last year on Sunday 1st September (his anniversary). The monument also commemorates all the musicians of the area who have gone to their eternal reward. It is situated on the Reen Hill Road about three-quarters of a mile from Glengoole village. A Commemoration Festival is held on 1st September every year with a host of local and visiting musicians taking part, platform dancing and singing continuing in the village pubs on that night. The beautiful lake, Lough Doire Bhile, which can he splendidly viewed from 'The Reen' also hosts many fishing competitions throughout the year. Grange also has beautiful mountain walks with spectacular views.